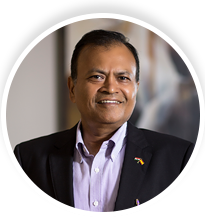 How would you appraise the Company's performance during FY 2018-19?
The year under review was one of the most challenging for Srei. In the aftermath of the NBFC crisis that unfolded across India's financial system in September 2018, access to funds virtually disappeared. The result is that consolidated disbursement declined by 23 per cent during second half of the year as against the growth of 13 per cent during the first half compared to corresponding periods of the previous year. In the challenging environment, the Company focused on enhancing liquidity and business sustainability.

This also impacted the Company's performance during the second half of the year. While consolidated total income and PAT grew by 28 per cent and 66 per cent respectively in the first half of the year over the corresponding period in the previous financial year, there was a slowdown in the second half. The Company's topline grew only by 13 per cent and bottomline grew only by 5 per cent during the second half of the year compared to corresponding period of the previous year. However, we still managed a positive growth in net profit for the entire year.
How did the change in scenario affected the Company's fundamentals?
Over the last three decades,
we successfully negotiated a number of sectoral downturns on the back of strong fundamentals and focused approach. The result is that we emerged stronger each time.
For a quick re-cap,
in the late Nineties, NBFC sector growth came to a halt when the sector experienced a shakeout. Srei had responded successfully to this challenge by strengthening its fundamentals seeking global resources. During this toughest phase in the sector's history, the Company responded with speed and aligned its business model in line with the government's development goals and with complete regulatory compliances.
The challenges that the Company is now facing are different. There is a liquidity crunch, which should not be confused with a solvency challenge. One window of funding may have closed, but the government and regulator, well aware of the problems, intervened proactively to allow NBFCs to enter the co-lending business through a partnership with banks.

The macro-fundamentals remain strong; the country also now has a strong and stable government reelected with an overwhelming majority. This indicates that the economy will continue to grow and co-lending will help players like our Company grow our business.
The Company's competence lies in the management of economically productive assets, and this is the value-addition that we bring to the co-lending exercise, while banks will provide the bulk of funds. Besides, co-lending will allow the Company to moderate the leverage on our Balance Sheet and our cost of capital – a winwin for the Company and the banks. This secure volume-driven approach will strengthen Return on Equity and business sustainability in the coming years.

The Company is also focused on enhancing the revenue mix where securitisation and co-lending will play a prominent role. In the post GST environment, leasing will be a key driver in fresh asset creation; the Company is equipped to promote leasing. The message that I need to send out is that the Company is making a greater use of tools to address prevailing realities, entering co-partnering and co-lending programmes, while leveraging securitisation and other solutions.
The result is that we are optimistic of riding through this downtrend as well. On the overall, the Company will continue to build on its strengths to reinforce our position as the country's only pure-play infrastructure financing NBFC.


Why is India's infrastructure sector likely to grow faster?
Although there has been a slowdown
in infrastructure investments in the last couple of years, this could be transitory. The strong mandate for the government implies government spending on infrastructure will revive and one can foresee a number of EPC projects in the second successive term of this government.
There are compelling reasons why sustained investments need to be made in Indian infrastructure.

One, India is still largely an underinvested country from an infrastructural perspective. A simple comparison with the quality and quantum of infrastructure in China indicates how much we still need to cover to achieve a world-class infrastructure standard. This highlights years of sizable investments still to be made.
Two, the question is not just of investments in infrastructure, but of a larger issue of making India globally competitive so that India's low cost manufacturing base can be fully leveraged. It is an open fact that India's infrastructure disadvantage – in terms of relatively low scale and correspondingly high cost – will need to be structurally corrected. In view of this, we believe that increased infrastructure investment is inseparable from India's growth ambitions.

Three, Prime Minister Narendra Modi has set an ambitious target of USD 5 trillion GDP by 2024, from USD 2.7 trillion now. This calls for a commensurate addition to the carrying capacity of our infrastructure.
Each of these realities indicates that the kind of growth that we have seen in the last 30 years is nothing compared to the kind of opportunity that awaits us in the coming years.


What is the size of opportunity that India is looking at?
We, infrastructure professionals,
follow a simple formula – if a country's GDP grows at x per cent annually, infrastructure investments need to grow 2x per cent to ensure that the growth momentum sustains. Even if India reports annual GDP growth rate of 6.5-7.0 per cent, we need to grow infrastructure investments by 13-14 per cent annually. Thus, for the world's fastest growing major economy, the infrastructure sector is also likely to grow faster than in any other country.
According to government estimates, infrastructural investments worth USD 4.5 trillion will be needed in investments till 2040 across roads, airports, ports, Smart Cities and affordable housing projects, among others. This could create a powerful ripple in terms of secondary investments, catalysing the growth of the Indian economy.

Keeping these figures in mind, we need to plan for the long-term and configure a corresponding organisational structure and business model to graduate Srei to the next level.
How has Srei stayed relevant in a challenging sector?
We recognise that infrastructure is a
long-term game with occasional macroeconomic shocks. In this business, long-term sustainability needs to be derived from a robustyet-scalable business model that can adapt to economic transitions and respond to sectoral opportunities. The operative words are 'agility' and 'innovation'.
At Srei, we have been fortunate in
building a team of experienced professionals whose deep domain knowledge and rich market experience have helped us continuously to innovate in the infrastructure financing space. Our ability to adapt with speed and transform challenges into opportunities has protected our relevance .
How has Srei persisted when a number of its peers have perished?
We believe that the one reason why
most infrastructure financing players failed in this sector was a lack of focus. Infrastructure creation is time-consuming with specific risks attached. Across its lifetime of use, the infrastructure property passes through various economic cycles, which warrants patient long-term investing. We have always been patient without losing focus. Besides, we have been fairly conservative in our approach, strengthening our sustainability.
Srei has consistently been a pure-play
infrastructure player across three decades. By focusing on enhancing process efficiency on the one hand and effective risk management on the other, Srei has successfully withstood a number of challenges and emerged stronger.
Has there been any learning for the Company from the recent crisis?
If there is one take-home from the
recent crisis, it is that we need to be additionally vigilant in matching our assets with liabilities (a key reason why most players faltered). The result is that even as the market grappled with liquidity issues, Srei continued to repay its liabilities and kept exploring diverse funding sources (PSU banks, external commercial borrowings, bonds and a probable Masala Bond mobilisation).
How bright are prospects in the equipment financing business?
The business reported a
commendable performance in the first half of the year owing to a strong investment sentiment. However, as the momentum slowed thereafter, the business was affected by a large scarcity of funds.
We continued to be India's leading player in the construction, mining and allied equipment financing spaces. We continued to enjoy longstanding relationships with major OEMs, strengthening our access to the financing of world-class equipment, which will be needed to shrink construction cycles and enhance site safety. We continued to protect our large customer base, which we believe should enable us to carve out a larger wallet share across the foreseeable future when these customers intend to buy new equipment.

The i-Quippo platform that we partnered leverages technology to enhance the digital edge in our equipment financing business. The interactive nature of this platform and the ease of transaction received an encouraging response from our customers and vendor partners. Going forward, i-Quippo will be a crucial cog in our equipment financing business as digitisation plays a major role in our innovation-driven journey.
What are your plans to generate long-term growth?
We expect our business to take two or
three quarters to stabilise before we return to our normalised growth journey. This year will be a year of transition at Srei and we continue to strengthen our processes and redefine our business model, enhancing positive changes for our customers, stakeholders and employees . This could strengthen our preparedness for the long-term.
In the medium to long-term,
given the risk quotient within the economy and incidence of Black Swan events, we intend to create a leaner Balance Sheet on the the one hand and enhance profitability (Return on Equity) on the other. We will pay deeper attention to revenue and business quality .
In the area of project financing, we will venture more cautiously. Banking on our expertise, we will focus on advisory services. We will explore resolutions for stressed assets. In partnership with other financial institutions and without assuming a larger risk on our Balance Sheet, we will seek to provide innovative financing solutions for infrastructure players. Deleveraging the Balance Sheet and de-risking the business model will be a part of our long-term growth plan.