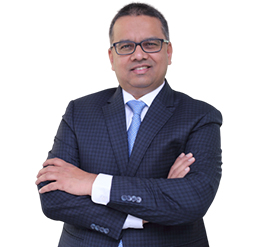 Srei Infrastructure Finance Ltd. is an infrastructure company as the name suggests and we have been at it for over three decades now and over the years we have learned a lot about the risks associated with infrastructure, the changing policy environment and all of this is expected in an emerging economy. But what it has done for us is build a lot of resilience in our systems, processes and people. And the fact that the promoters have a long term vision and a long term commitment to infrastructure, we believe we are extremely well-placed to capitalize on some of the opportunities as they emerge.


Infrastructure is a very exciting space as many people say it connects people with possibilities.

And so we are very charged up and with the new government, new policies, pro-growth policies which are expected, we believe that will lend itself to a lot of new opportunities, new ways of doing things and we're absolutely ready to capitalize on that. So looking forward to a very exciting phase of next 30 years for the company. And the teams are really charged up.There are challenges, no doubt, but we are very blessed to face those challenges and make the most of it.

Look forward to an exciting future. Thank you.